Support DigitalDrStone!This site is a free service for Polarity Therapy practitioners, students and teachers, with the intention of expanding Polarity Therapy by making it more accessible. It is owned and operated by a non-profit organization, EnergySchool Foundation, with the support and permission of numerous other individuals and corporations as described in the Acknowledgements section. Please consider making a tax-deductible donation to support our continued presence by using this Paypal button to send a contribution.
Polarity Therapy Volume 2, Book 6

Chart No. 15 - Exercise for Polarizing the Energy Currents
The perfect neutral position of the body. The embryo in the mother's womb is the beginning of the perfect posture, where all the energies can flow freely, to build a perfect body. (For further explanation, see Chart No. 5 in "Energy", page 49; Chart No. 10 in "The Mysterious Sacrum", page 42; and page No. 9 in "The New Energy Concept".
To assist the body in repairs and building or rebuilding, some relationship to this primal position is used in many exercises for the particular purpose of encouraging more energy flow, especially when used together with the life breath.
This posture is wonderful for the relief of nervousness and excess gas.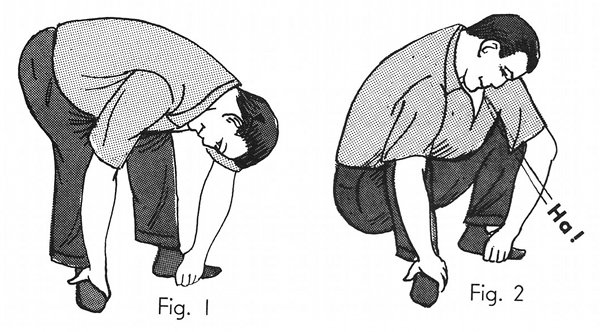 In doing these exercises, choose a free space on a soft rug so that if you topple over in your first attempts you will roll like a ball without hurting yourself.
This neutral position of the body is completed with the hands under the arches of the feet, so the polarity currents can flow. The elbow joints are over the knees and the head is bent forward in a relaxed position in order to stretch the muscles of the neck and back.
Then a rocking motion is used - forwards and backwards - while the hands are pulling on the soles of the feet. Breathe out when the abdomen is squeezed by this motion, and breathe in when it is thus released. Next, rock from side to side and continue the same natural way of breathing as with the forward and backward motion. After that, rotate the body in a circular motion - clockwise and counter-clockwise - in as wide a circle as possible. This strengthens the pelvic muscles and is very helpful for lower back conditions. (For further explanation, see the charts in "Easy Stretching Postures for Vitality and Beauty".)
Illustration Keywords: ha

Additional Keywords: arch pull ha breath

Book 6, Chart 14 ~ Book 6, Chart 16
American Polarity Therapy Association
Copyright 2012 EnergySchool Foundation
Text & images from Randolph Stone, Polarity Therapy Vol. I & Vol. II, CRCS PO Box 1460, Sebastopol, CA 95473
Thanks to the American Polarity Therapy Association and CRCS Publications for supporting this project.