Support DigitalDrStone!This site is a free service for Polarity Therapy practitioners, students and teachers, with the intention of expanding Polarity Therapy by making it more accessible. It is owned and operated by a non-profit organization, EnergySchool Foundation, with the support and permission of numerous other individuals and corporations as described in the Acknowledgements section. Please consider making a tax-deductible donation to support our continued presence by using this Paypal button to send a contribution.
Polarity Therapy Volume 2, Book 4

Chart No. 7 - Brachial Plexus and Occipital Release as a Specific for Respiration, Circulation, Heart and Digestion.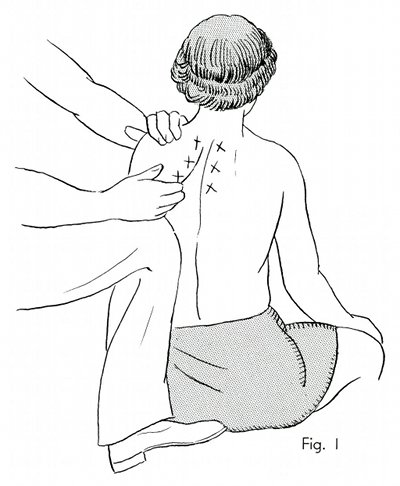 Release of brachial plexus blocks by getting the fingers under the shoulder blades as high as possible in a lifting motion with the patient sitting up. Specially indicated in heart trouble and respiratory difficulty.

See Chart No. 36, Book 2, for the table technique.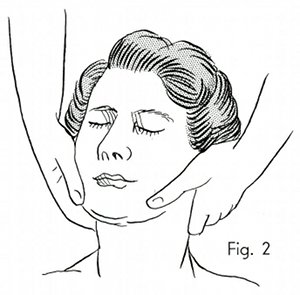 A head contact with the chin flexed on the neck by the thumbs on the jaw, with a gentle rocking extension for the release of the occipital atlas [atlanto-occipital] articulation, neck tension and energy blocks in heart conditions.

Book 4, Chart 6 ~ Book 4, Chart 8

Book 4, "Explanation of Chart No. 7"
American Polarity Therapy Association
Copyright 2012 EnergySchool Foundation
Text & images from Randolph Stone, Polarity Therapy Vol. I & Vol. II, CRCS PO Box 1460, Sebastopol, CA 95473
Thanks to the American Polarity Therapy Association and CRCS Publications for supporting this project.