Support DigitalDrStone!This site is a free service for Polarity Therapy practitioners, students and teachers, with the intention of expanding Polarity Therapy by making it more accessible. It is owned and operated by a non-profit organization, EnergySchool Foundation, with the support and permission of numerous other individuals and corporations as described in the Acknowledgements section. Please consider making a tax-deductible donation to support our continued presence by using this Paypal button to send a contribution.
Polarity Therapy Volume 1, Book 2

Chart No. 36 - Scapula Lift for Brachial Plexus Release
Contact of the fingers under the scapula inserted anywhere along its ridge from the bottom to the top, wherever it is hardest to get under. The hand is supported by the knee, which does the lifting, the foot rests on a stool or table-brace. The next move is to pull the shoulder over with the other hand on to the contact. The knee raises and lifts the shoulder. When the scapular muscles are so tight that the fingers cannot get under them, then, the big toes joints and the transverse arch of the feet should be released because they are the negative poles which hold them bound by their wireless current block.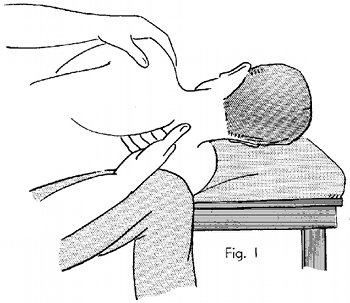 The lift on the point of the shoulders accomplishes a brachial plexus release and a general well being [well-being] often follows. Patients gain weight and do better after the shoulder blades are freed. Mental and physical loads are carried over the shoulders and are bound up with life thru [through] respiration and by groans.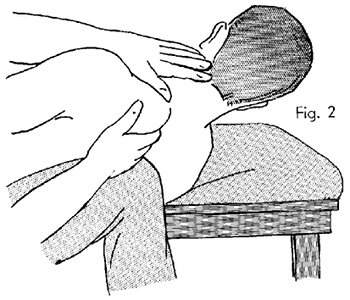 The completed contact under the shoulder blade with the forearm of the other hand in front under the shoulder joint, the hand extended to gently push the head down for a more complete relaxation and stretch of the neck muscles, freeing tension and energy block over the brachial plexus. It is a valuable move in all respiratory, heart, and nervous conditions, and for recuperating energy.

Book 2, Chart 35 ~ Book 2, Chart 37
American Polarity Therapy Association
Copyright 2012 EnergySchool Foundation
Text & images from Randolph Stone, Polarity Therapy Vol. I & Vol. II, CRCS PO Box 1460, Sebastopol, CA 95473
Thanks to the American Polarity Therapy Association and CRCS Publications for supporting this project.