Support DigitalDrStone!This site is a free service for Polarity Therapy practitioners, students and teachers, with the intention of expanding Polarity Therapy by making it more accessible. It is owned and operated by a non-profit organization, EnergySchool Foundation, with the support and permission of numerous other individuals and corporations as described in the Acknowledgements section. Please consider making a tax-deductible donation to support our continued presence by using this Paypal button to send a contribution.
Polarity Therapy Volume 1, Book 2

Chart No. 40 - Rotation and Sidebend [Side Bend] Stretch to Open the Foramen Magnum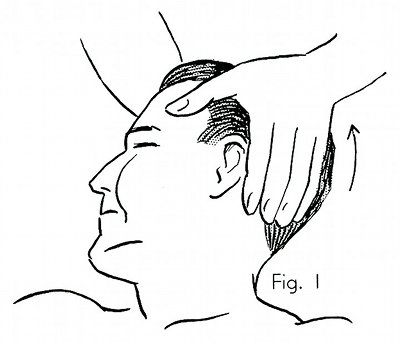 Contact for a stretch on the occiput and the neck muscles to open the foramen magnum with the other hand underneath in the same position acting as a fulcrum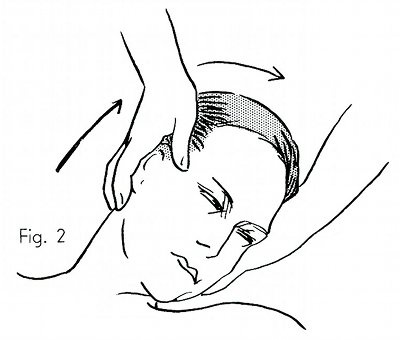 Double contact in action or the rocking stretch movement to line up the head vertically with the body. The occipital condyles are inside of the atlas articulation and control atlas movements. Pulls from below also act as leverage on these muscles. Often a left lateral atlas is released by a perineal contact in all emotional conditions and especially in pregnancy. Use it first.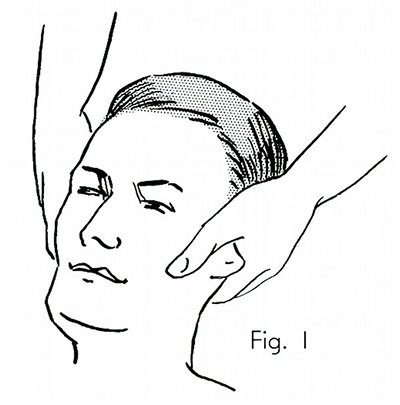 Double contact on the temporal and occipital bone for a lateral side bend stretch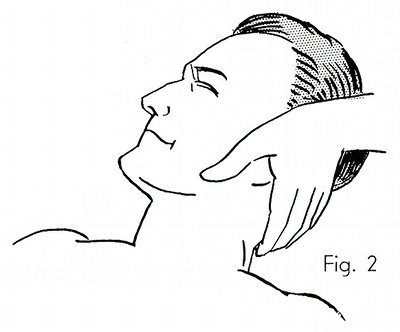 Showing the contact from the side view. The hand must fit the head and support it. The movement is a gentle molding stretch no force is necessary for best results. Cells and tissues move with the vibratory rhythmic impulse of the life force in the breath.

Book 2, Chart 39 ~ Book 2, Chart 41
American Polarity Therapy Association
Copyright 2012 EnergySchool Foundation
Text & images from Randolph Stone, Polarity Therapy Vol. I & Vol. II, CRCS PO Box 1460, Sebastopol, CA 95473
Thanks to the American Polarity Therapy Association and CRCS Publications for supporting this project.