Support DigitalDrStone!This site is a free service for Polarity Therapy practitioners, students and teachers, with the intention of expanding Polarity Therapy by making it more accessible. It is owned and operated by a non-profit organization, EnergySchool Foundation, with the support and permission of numerous other individuals and corporations as described in the Acknowledgements section. Please consider making a tax-deductible donation to support our continued presence by using this Paypal button to send a contribution.
Polarity Therapy Volume 1, Book 2

Chart No. 39 - Occipto-Temporal [Occipitotemporal] Contacts and Positions.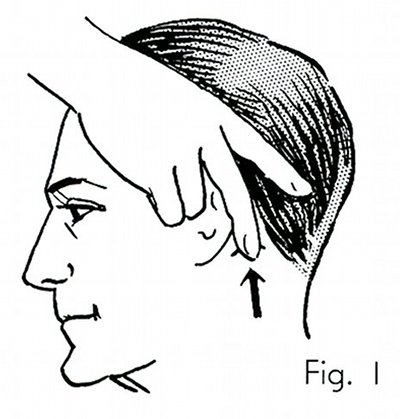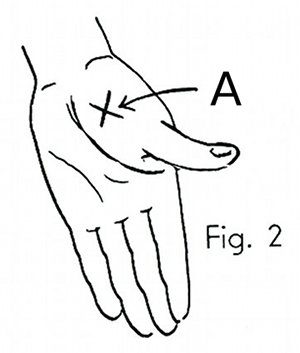 (A) Contact point of hand behind ear.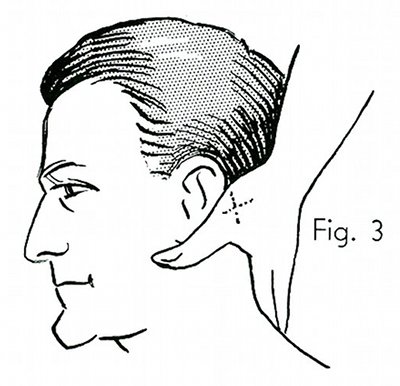 Completed contact

Adjustment position for the temporal-occipital region plus a 7th cervical [seventh cervical, C7] and 1st dorsal [first thoracic, T1] correction, all in one move.
The principle of this contact is based upon the crossing over of the brain currents in the neck and its letter X effect on tissues. A gentle correction given here is supported by the entire hand. It gives by itself when the line of force is correct and indicated by muscle tension. A relaxation of the lower poles must be accomplished first or it will not stay put.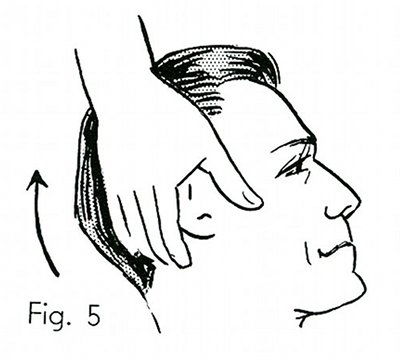 Position of hand on occiput for a stretch to open foramen magnum opposite to the adjusting contact. It also has a positioning effect on the temporal bone.

Book 2, Chart 38 ~ Book 2, Chart 40
American Polarity Therapy Association
Copyright 2012 EnergySchool Foundation
Text & images from Randolph Stone, Polarity Therapy Vol. I & Vol. II, CRCS PO Box 1460, Sebastopol, CA 95473
Thanks to the American Polarity Therapy Association and CRCS Publications for supporting this project.