Support DigitalDrStone!This site is a free service for Polarity Therapy practitioners, students and teachers, with the intention of expanding Polarity Therapy by making it more accessible. It is owned and operated by a non-profit organization, EnergySchool Foundation, with the support and permission of numerous other individuals and corporations as described in the Acknowledgements section. Please consider making a tax-deductible donation to support our continued presence by using this Paypal button to send a contribution.
Polarity Therapy Volume 1, Book 2

Chart No. 35 - Gentle Rocking Motion and Stretch for the Pelvis to Relieve Spasms and Blocks in the Muscles of the Hip Joint.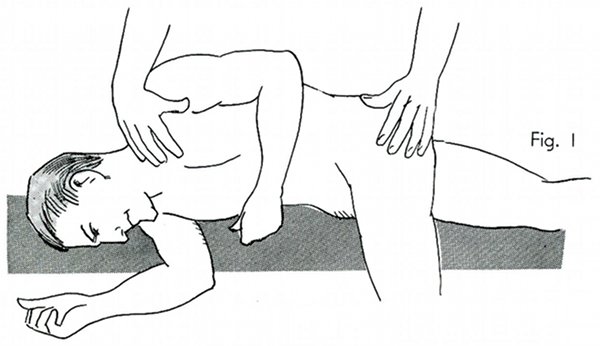 Fig. 1 shows the operator standing behind the patient with one hand fitted lightly to the shoulder to draw it backwards. The other hand is on the thigh. The thumb digs into the tense muscle fibres [fibers] above the hip joint, anywhere up to the crest of the ilium wherever they are found. These have a definite relation to the lateral respiratory and intercostal [intercostals] muscles. A gentle rocking motion aids in relaxation. Many corrections of tissues can take place easily. This move may be used on heavy patients, where hip correction is too strenuous for the operator.
Fig. 2 shows a stretch and a gentle rocking contact in the opposite direction when it is indicated by shoulder and hip tension. Here the operator stands in front of the patient. No force is used; it is a relaxation by short rhythmic motion. The contacts vary with the tension and the energy blocks found in that area. Fixed and resistant muscle fibres [fibers] yield to resilient impulses, when the negative pole of the muscle attachment can be polarized to operate normally.

Book 2, Chart 34 ~ Book 2, Chart 36
American Polarity Therapy Association
Copyright 2012 EnergySchool Foundation
Text & images from Randolph Stone, Polarity Therapy Vol. I & Vol. II, CRCS PO Box 1460, Sebastopol, CA 95473
Thanks to the American Polarity Therapy Association and CRCS Publications for supporting this project.