Support DigitalDrStone!This site is a free service for Polarity Therapy practitioners, students and teachers, with the intention of expanding Polarity Therapy by making it more accessible. It is owned and operated by a non-profit organization, EnergySchool Foundation, with the support and permission of numerous other individuals and corporations as described in the Acknowledgements section. Please consider making a tax-deductible donation to support our continued presence by using this Paypal button to send a contribution.
Polarity Therapy Volume 2, Book 6

Chart No. 2 - Evolutionary Radiating Vital Energy Which Sustains All Body Functions. Anterior Waves from the Center Out and Contacts from the Umbilicus. Other Sensory Centers for Contacts - the Perineum, Uvula, Top of Head, Palms of Hands, Soles of Feet.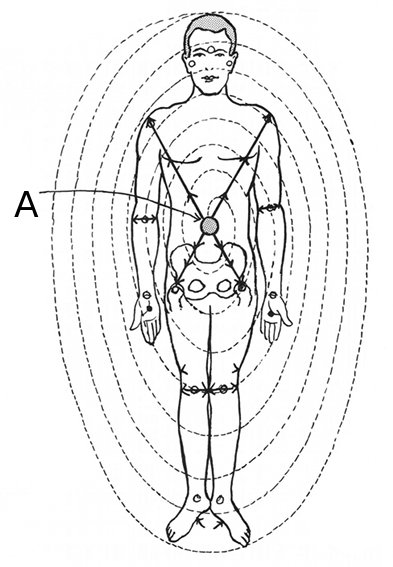 Thighs and upper arms are digestive reflexes and forearms and calves of legs are chest and lung reflexes.

(A) Red vital currents of energy flow as the fire of life and nourishment. The center of digestion, assimilation, elimination and oxidation.


Light pressure with a gentle sensory type touch contact on polarity centers is relaxing and soothing to nervous patients and to overstimulated and irritated tissues. Tense perineal muscles are chronic emotional reflexes
Motor joint areas can be used with sensory contacts to balance both. See Chart No. 4 - page 45 in "Polarity Therapy"
The emotions are the neutral etheric life principle and the involutionary actions and reactions of the vegetative nervous system. They constitute the unconscious cellular life impulses and behavior. Tenderness on tip of spinous process shows a congestion in the meninges and a stagnation in the cerebro spinal [cerebrospinal] fluid as the central core action from the life principle in the ventricles of the brain. Lack of oxidation stagnates the life fluids because of insufficient radiation of the fiery life energy mixed with air to fan it. Polarizing the brain faculties from the right to the left half can be done for balancing or stimulating action. (Taught in class work).

Book 6, Chart 1 ~ Book 6, Chart 3
American Polarity Therapy Association
Copyright 2012 EnergySchool Foundation
Text & images from Randolph Stone, Polarity Therapy Vol. I & Vol. II, CRCS PO Box 1460, Sebastopol, CA 95473
Thanks to the American Polarity Therapy Association and CRCS Publications for supporting this project.