Support DigitalDrStone!This site is a free service for Polarity Therapy practitioners, students and teachers, with the intention of expanding Polarity Therapy by making it more accessible. It is owned and operated by a non-profit organization, EnergySchool Foundation, with the support and permission of numerous other individuals and corporations as described in the Acknowledgements section. Please consider making a tax-deductible donation to support our continued presence by using this Paypal button to send a contribution.
Polarity Therapy Volume 2, Book 4

Chart No. 5 - The Cause of the Short Leg and Its Physiological Reaction.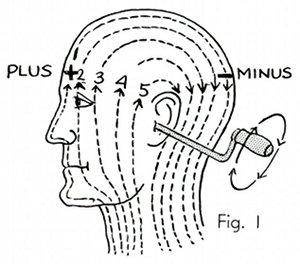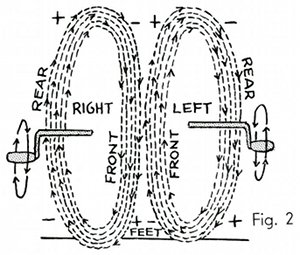 Electro magnetic [Electromagnetic] currents which travel from head to foot on each side of the body in opposite directions.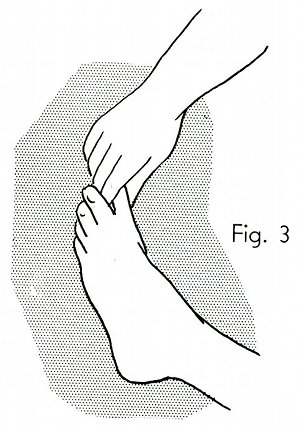 A polarity contact on the sides of the big toe with pressure and a stretching movement, toward the median line of the body. This is used where the quick tap on the joint is counter indicated.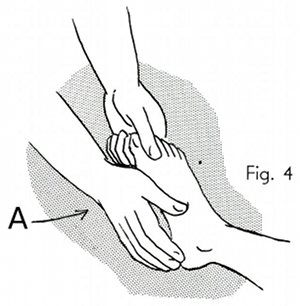 (A) A specific short leg technique
Polarity reflexes found in the joints of the big toe. A mild shock treatment with respiratory reflexes, shoulder tension release and lengthening the usual short leg.
See Chart No. 37, Book 2.
Illustration Keywords: (fig. 1) plus, minus, +, -, 1, 2, 3, 4, 5
(fig. 2) rear, front, right, left, feet, +, -

Book 4, Chart 4 ~ Book 4, Chart 6

Book 4, "Explanation of Chart No. 5"
American Polarity Therapy Association
Copyright 2012 EnergySchool Foundation
Text & images from Randolph Stone, Polarity Therapy Vol. I & Vol. II, CRCS PO Box 1460, Sebastopol, CA 95473
Thanks to the American Polarity Therapy Association and CRCS Publications for supporting this project.