Support DigitalDrStone!This site is a free service for Polarity Therapy practitioners, students and teachers, with the intention of expanding Polarity Therapy by making it more accessible. It is owned and operated by a non-profit organization, EnergySchool Foundation, with the support and permission of numerous other individuals and corporations as described in the Acknowledgements section. Please consider making a tax-deductible donation to support our continued presence by using this Paypal button to send a contribution.
Polarity Therapy Volume 1, Book 2

Chart No. 23 - Relaxed Hand Contacts - Single and Double - with the Current Flow of the Electro-Magnetic [Electromagnetic] Longitudinal and Circular Waves.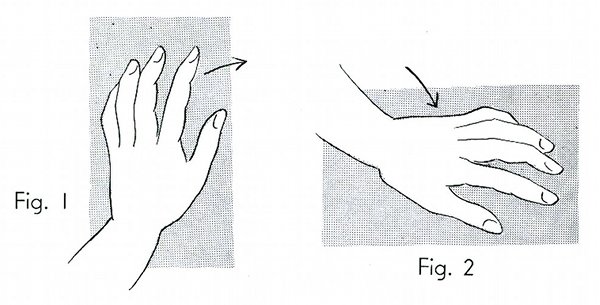 The contact hand takes a quarter turn on the skin to pick up the loose tissues to about a 45 [forty five] degree angle reinforcing one hand with the other in an upward movement toward the spine, with the relaxed body weight behind it. In this instance the direction is with the current flow of the electro magnetic [electromagnetic] waves for the purpose of overcoming energy blocks which cause inflammation and pain by resistance to the energy waves. The object is to restore and balance the energy circuits.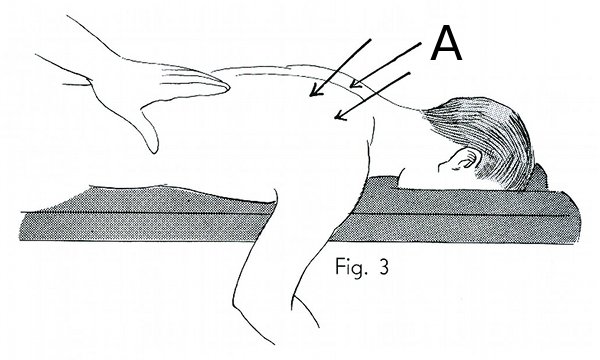 (A) Directional force
This a positive raja [rajas] type therapy of a vibratory gentle rocking motion with the greatest elasticity of impulses behind it. This superimposed force is released in definite lines and directions to influence the currents of the electro magnetic [electromagnetic] waves of the body. The direction can be from any angle which accomplishes release of energy blocks.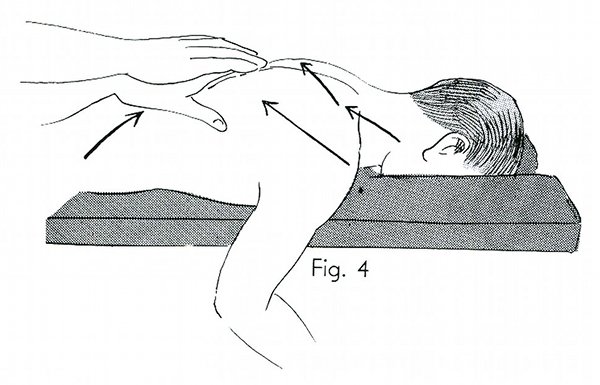 The angle and the direction is determined by the highest area on the back as the patient lies straight face down on the table with the head in a split cushion. Raised areas indicate tissue tension of various depths along each side of the spine. These currents must be balanced and tension blocks removed. The circular wireless horizontal currents which go around the body are also a factor here as well as the longitudinal north and south circuits from head to feet. See Chart No. 7
In the presence of pain or inflammation the direction of the lines of force are usually with the currents.

Book 2, Chart 22 ~ Book 2, Chart 24
American Polarity Therapy Association
Copyright 2012 EnergySchool Foundation
Text & images from Randolph Stone, Polarity Therapy Vol. I & Vol. II, CRCS PO Box 1460, Sebastopol, CA 95473
Thanks to the American Polarity Therapy Association and CRCS Publications for supporting this project.