Support DigitalDrStone!This site is a free service for Polarity Therapy practitioners, students and teachers, with the intention of expanding Polarity Therapy by making it more accessible. It is owned and operated by a non-profit organization, EnergySchool Foundation, with the support and permission of numerous other individuals and corporations as described in the Acknowledgements section. Please consider making a tax-deductible donation to support our continued presence by using this Paypal button to send a contribution.
Polarity Therapy Volume 1, Book 2

Chart No. 20 - A Stomach Release and Abdominal Contacts for the Stimulation of the Lacteals and Stagnant Energies.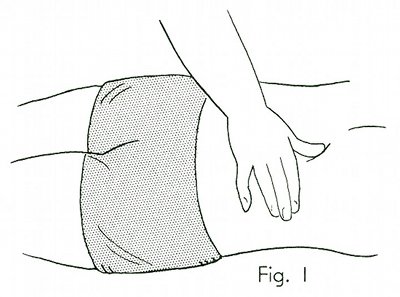 Fig. 1 shows the patient on the back and the hand of the operator makes mild directional contact under the pylorus with the head lift to release stagnation by emptying the stomach.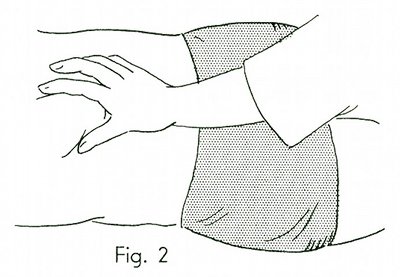 Fig. 2 shows a free hand contact over tender areas on the abdomen with a partial twist and a firm grip on the tissues with the direction upward toward the opposite shoulder. The hand opens and closes repeatedly for a gentle stimulation to the muscles and fatty tissues.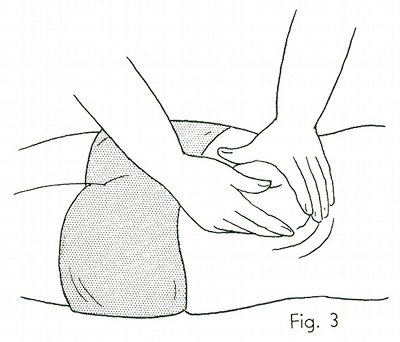 Fig. 3 gives a double hand contact with a firm twist of the loose fatty tissue for stimulating the lacteals and producing better drainage. It is a digestive and bowel stimulation by directional energy against the electro magnetic [electromagnetic] flow.

Book 2, Chart 19 ~ Book 2, Chart 21
American Polarity Therapy Association
Copyright 2012 EnergySchool Foundation
Text & images from Randolph Stone, Polarity Therapy Vol. I & Vol. II, CRCS PO Box 1460, Sebastopol, CA 95473
Thanks to the American Polarity Therapy Association and CRCS Publications for supporting this project.